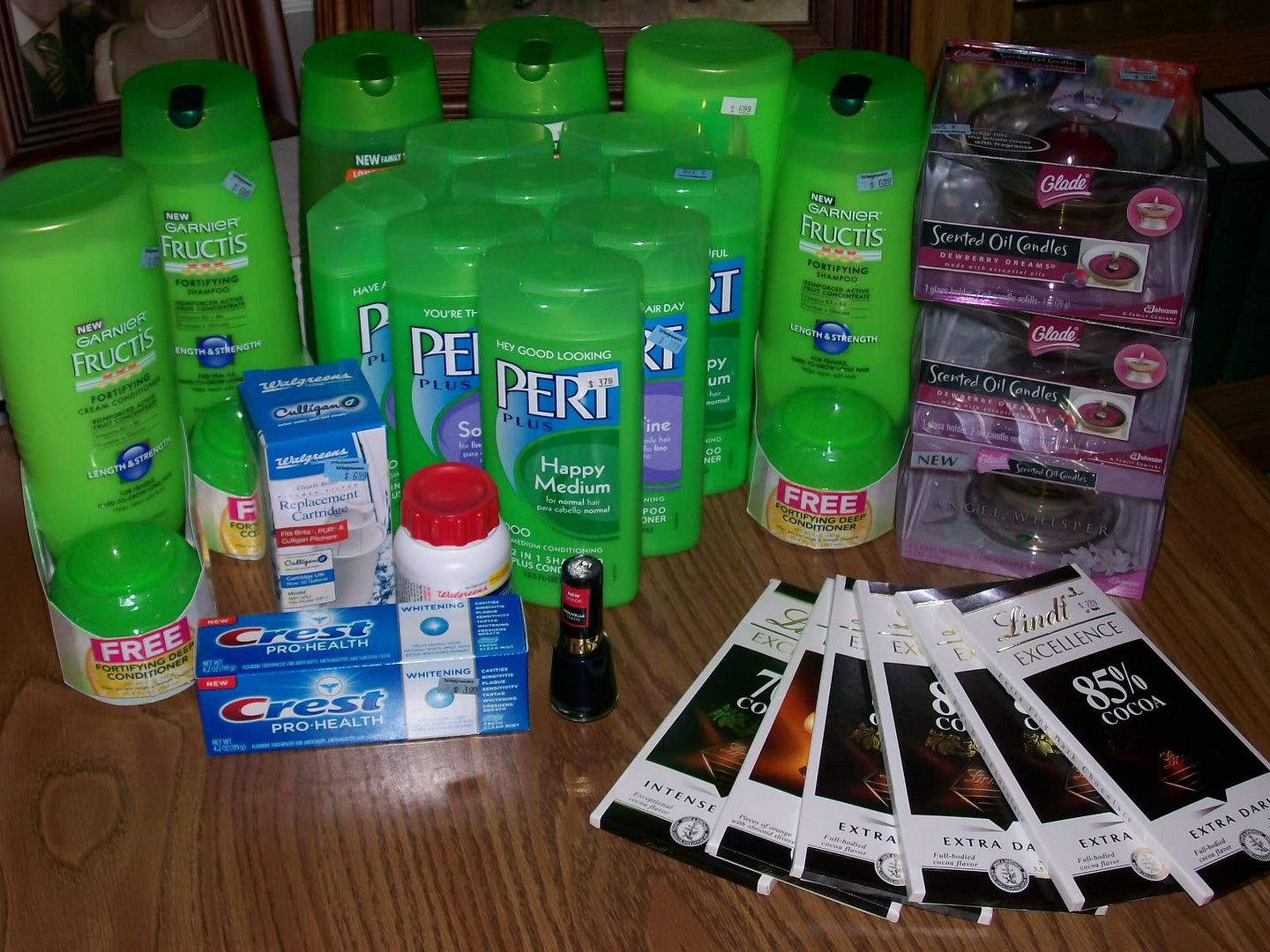 Today was the first of two days where the Walgreen's EasySaver Rebates for the months of September & October overlap! In the couponing world, it's called "double-dipping." Here's what I was able to purchase:

6 large (25+oz.) Garnier Fructis shampoo & conditioner
8 Pert Plus 2-in-1 shampoo & conditioner
3 Glade Scented Oil Candles
1 Crest Pro-Health toothpaste
1 Walgreen's Acid Control tablets, 25 ct.
1 Walgreen's replacement water filter
1 Revlon nail polish
6 Lindt dark chocolate bars

I was able to really maximize my savings on the Pert Plus. Regularly $3.79, they were on a price drop to $3.49. I had $2/1 manufacturer's coupons, and in the October EasySaver Booklet, there were also store coupons for $2.50/1. Since you can use both coupons together, I was able to get $4.50 off each bottle at the register, giving me roughly $8 in overage ($1/bottle).

Bryan loves dark chocolate, so I was excited to read on Hot Coupon World that Lindt dark chocolate, regularly $2.29, was on sale this week for $1.50. After using the $1/1 coupon in the October EasySaver Booklet, they only cost $0.50; which made a great item to apply the Pert Plus overage towards.

I won't bore you with all the other details, but here are the stats:

Retail Price: $128.73
Sale Price: $120.59
(-) Store Coupons: $50.00
(-) Manufacturer's Coupons: $32.00
(+) Sales Tax: $6.69
Out of Pocket Expense: $45.28
(-) Mail In Rebates: $62.19
Final Cost: -$16.91

That's right, at the end of the day we were paid $16.91!